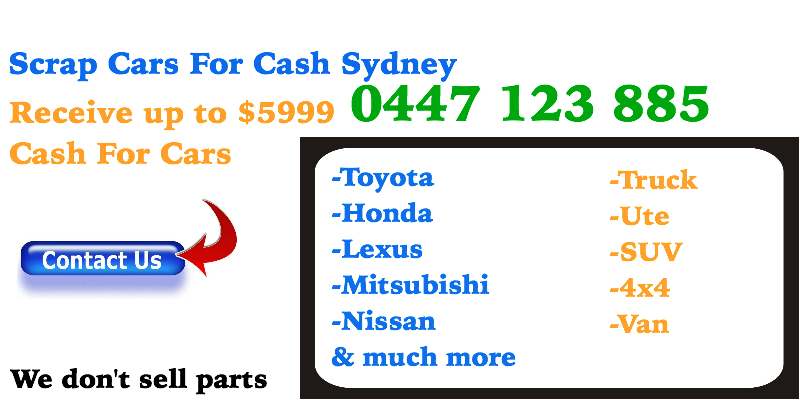 Cash for Scrap Cars
Get Cash Up To $6000 For Your Scrap Cars In All Suburbs. Sydney Wide Car Removal is a TOP NOTCH scrap car buyer that buys all types of vehicles, no matter what their condition or age. We pay you the highest ever price even if your rusted car has not moved since years!
Contact us immediately to get an instant free quiet worth up to $6000 for your junk car. We can reach your place in the city within an hour. We're really concerned about you, so you can leave your worries to us.
If you're looking to sell your old car for some cash, or if you're interested in free junk car removal in Sydney we give highest cash for scrap cars in the city. You can earn cash up to $6000 on the same day as our team ensures speedy pickup. We are a reputable junk car towing service that will pay you best offer for your junk car. Call Sydney's best scrap car recyclers right now and get most cash for your scrap.
We buy scrap cars Sydney for cash, scrap jeeps, scrap vans, scrap 4wds, scrap trucks and any old vehicle you may want to get rid of. Scrap Car Removal offers 24/7 junk car pickup in the all Sydney suburbs.
Why Sell Your Vehicle To Us?
We offer you some of the highest prices paid for junk vehicles

The selling process is seamless-our team takes care of all paperwork

We will tow away your scrap for free within our set towing zone

Your junk will be off your premises

You will get handsome cash for vehicle you are not using

We recycle junk vehicles in most eco-friendly way

We efficiently remove and recycle hazardous fluids and materials

We make available your junk vehicle to our nationwide parts customers

The remaining metal is used for creating newer steel products

With efficient recycling of junk vehicles, we help fragile environment by reducing any need to create newer products using virgin materials which in turn saves lot of water, energy and also reduces mining/production wastes

Over the years, our cash for cars Sydney service has recycle thousands of vehicles and has helped communities keep them out of landfills
Sell Scrap Cars
We also offer best price for cars that are in working condition. So we purchase from our customers damaged, rusted, unwanted, used and accidental cars, vans, trucks, utes, 4×4's.
This also helps reduce burden on our environment. Many of these are hard to sell vehicles while others are where owner doesn't have any time to sell them.
We have access to some of the biggest scrap yards in Sydney, and also to some of the best and most efficient scrap dismantlers who immediately go to work as we bring roll in junk vehicles. They begin by stripping the rusted vehicles of all its parts and components and continue their work until it's a bare shell.
Once all vital parts of the vehicle are out, we quickly press or crush the vehicle and make scrap metal from its frame. Then we recycle, reuse, or resell the parts/ scrap metal of the vehicle. This is the reason scrap cars Sydney offers you TOP DOLLAR on even the useless piece of scrap!
Our USP's
Accept Any Make/Model, Running condition or Not

Free Junk Vehicle Removals

Fast Professional Scrap car Sydney Removals

No Towing Fee

Service 24 Hour a Day, 365 days a year

Never an Obligation
Eco Friendly Scrap Car Recycling
Most people are not aware that their old scrap car that has been sitting on a piece of land carries so many hazardous chemicals and materials that can quickly seep deep into the landfill and can pollute the soil and water systems.
At cash for scrap cars Sydney service, we implement green scrap car recycling mechanism, which ensures all parts of old junk cars are recycled and are used in an eco-friendly way. By choosing scrap cars Sydney service, you are helping the environment in a positive way.
Contact Us Today
Don't wait even for a second. None is best than cash for scrap cars Sydney when it comes to buying old cars. Just give us a call on: 0447 123 885  Or contact us online to get a FREE quote. Our team of towers will be there at your door with a tow truck and promised dollars we've quoted to you over the phone or online.
We will make sure you have the promised cash in your hand before we leave. We all take care of all the paperwork.