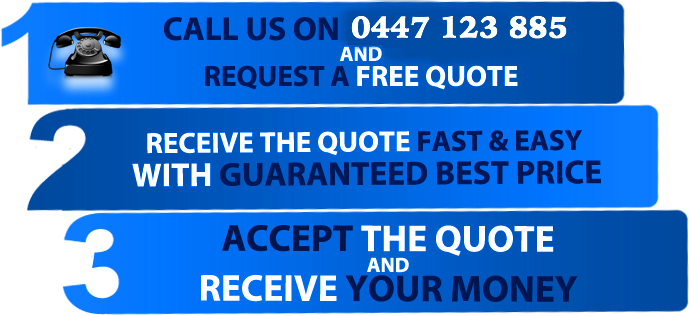 Cash for Old Car Removals Up To $6000 For Old Car Removal in All Suburbs!
Hopelessly searching for a buyer for your old car lying unused in your yard? We bet you won't find a better company than us offering same day car removals in Sydney?
At Sydney Wide Car Removal our team of experts are fully equipped to offer you up to $6000 and can take care of your old, broken, rusted, and unwanted cars, or other vehicles not worth registering or using anymore. We offer our customers speediest same day car removals in all Sydney areas.
You should consider car removals when:
Cost to repair your car is higher than its actual value

There is no value in terms of trade-in

Car has multiple issues and you do not want to pass them onto a new owner

You don't want to spend hundreds on placing ads in magazines or newspapers to see if anyone might be interested in it, given its repair concerns

It has been sitting stubbornly in your driveway or garage and you now need some space for your new car
Express Same Day Car Removals Sydney
We offer our customers same day car removals across Sydney at highest possible cash for that worthless piece of junk that has been lying unused for years at your property. We can come at any time convenient to you, including weekends.
If you are interested in calling a reliable junk car removal service then none is better than us. Call us immediately and we will revert to provide you 100 percent satisfaction. All our team members are bonded, licensed and insured and can reach all Sydney suburbs within hours.
We can immediately remove unwanted rusted cars, utes, vans, junk 4wds and trucks FREE OF CHARGE. We have the necessary equipment to remove the vehicles that are hopelessly stuck in parking lot.
We Also Buy 4x4s
Now there is no need to pay even a dime to get your old 4×4 hauled off to a distant wrecking yard. Our team members will reach your place on the same day to tow it away.
We readily accept all makes/models of 4×4, in any possible condition. Whether it's a piece of junk, its transmission system is out, or is still in a mint condition, we at Sydney Wide Car Removal offer best top dollar for its removal. We can quickly pay you up to $6000 for your old 4×4, car or any other vehicle.
Unwanted truck Removal For Cash
Aside from offering your top dollar for junk Truck car removals, we also pay for oversized tricks (Mercedes, Toyota, Daihatsu, Mitsubishi, UD, BMW etc) and we have necessary tools and equipment to carry out this task speedily on the same day anywhere in Sydney.
We have years of hands on experience in handling huge trucks, which makes us pay BEST PRICE to all our customers. We can even pay for entire fleet of trucks which can help you upgrade to newer ones seamlessly.
No Hidden Costs
Many companies offering junk car removals have so many hidden gotchas. Usually small fees may add up and can make selling your rusted can an expensive proposition. With us, you won't have to pay any fees and we buy your car for a great price without any fuss.
FREE Quote
We provide all our customers with a free no-obligation junk car removals quote and will inform them before reaching their premises or office. Our team arrives at the promised time and pays the quoted amount after completing the necessary paperwork.
Why Call Us For Junk Car Removals?
You should call us before we are the most Sydney's most professional company that offers up to $6000 for same day speedy junk car removal in all suburbs. Our team members are knowledgeable and can complete the paperwork in minutes at your place.
We never let our customers down and offer free towing and removal service. We pay the TOP DOLLAR that's impossible for our competitors to match. We never indulge in last minute negotiations and always pay the promised amount.
Is Title Or Registration Necessary?
We prefer title but it's not a requirement. We accept other proof of ownership, such as state ID or driver's license. You can ask our courteous representatives on which documents we accept. They can help you with this at the time of the FREE quote by phone.
Interested In A Completely Free Quote?
Contact us immediately at: 0447 123 885 for a completely FREE junk car removal quote. You can also reach us online.
We remove any sort vehicles from being a Junk to Scrap or Old Car.